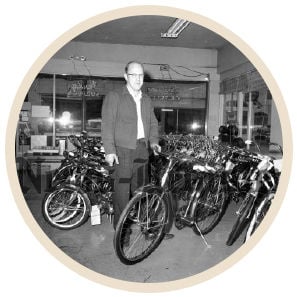 Erling "Tommy" Thompson, McMinnville, OR, 1962
Who We Are
We fix bikes of all types!
Tommy's Bicycle Shop has been a part of Yamhill County since 1949. Our purpose is to serve those around us by providing quality bicycles to buy, knowledgeable staff for service and repairs, and an all-inclusive meeting place for the community. We want to ensure that everyone has the opportunity to experience the child-like joy of riding a bicycle.
We're committed to meeting our customers where they are in their biking experience. We offer full service and support for your existing bike, whether that's a simple single-speed kids bike or a fancy road machine.
Our Estimates are free. Come in and we'll delight you with a welcoming smile and humble advice. 
Our Partner Brands
It takes a village to develop a thriving cycling community, and we couldn't do it without the support and partnership of the industries finest brands. Our intention is to provide you with the highest quality service and products available. These are some of the companies that support our vision for a more cycle-friendly Yamhill County.
Visit Us
Summer Hours
From May through September
Historic McMinville, Oregon
Tommy's Bicycle Shop
103 SE Baker St,
McMinnville, OR 97128
Walk-ins welcome.